The Open Methods Collective
Site map | Newsletter | Event Calendar | Contact Details
From Methods to Madness CD
Back to Guerilla Publishing Back to Histories of the Present Press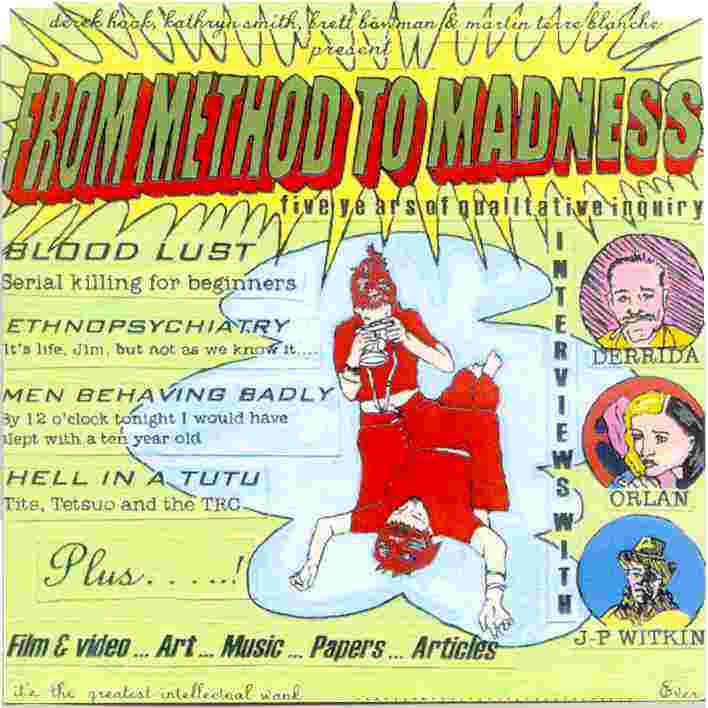 Hook, D., Smith, K, Bowman, B. & Terre Blanche, M. (1999). From method to madness: Five years of qualitative enquiry. Johannesburg: Histories of the Present Press. ISBN 0-620-24623-5.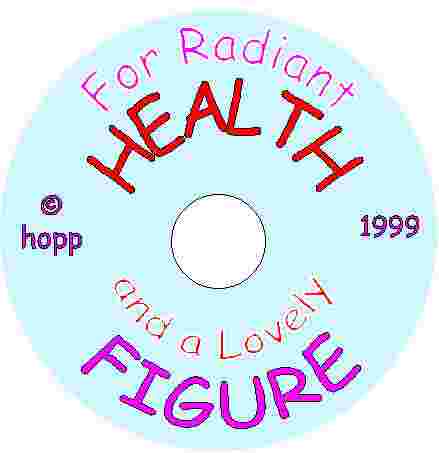 'From Method to Madness: Five Years of Qualitative Enquiry' is a multimedia CD-ROM including video-clips, music, images, interviews, articles and academic papers from the five Annual SA Qualitative Methods Conferences: 'A Spanner in the Works of the Factory of Truth' (1995), 'The Body Politic' (1996), 'Touch Me I'm Sick' (1997), 'Histories of the Present' (1998) and 'Normality & Pathology' (1999).
The CD-ROM contains:
A hitherto unpublished interview with Jacques Derrida (conducted during his 1998 trip to South Africa), in addition to interviews with famous self-mutilating French Artist Orlan and avant garde American artist Joel-Peter Witkin,
A series of 8 video-clips including an 'infomercial' for US artist William Scarborough's infamous 'suicide machines', two complete performances ('ugly girl' and 'dog') by renowned local artist Steven Cohen, a segment from US Columbia Symphonic double-bassist Jaqueline Lynn Pickett's performance of 'Suffer Even the Least'. Also contained are filmed excerpts of a Johannesburg study of South African 'road rage', an excruciating segment of a real-life lumbar-puncture procedure (Lynne Lomofsky's 'Cancer Ward') and snippets from a variety of musical/video/spoken conference presentations over the last 5 years.
'Serial Killing for Beginners' the introductory chapter to his 1997 Routledge-published: 'Serial Killers' by renowned author and Cornell University Professor of English Mark Seltzer.
3 full-length musical tracks by prime electronica outfits Hang Dog (who contribute 'dragnet' and 'demonweed') and Simian (who contributes 'beachwalk').
An extensive image-bank of the various art-works, pictures, photographs, exhibits and miscellaneous artefacts that featured as part of the conference exhibitions between 1996-1999 (featuring the work of Lynne Lomofsky, Anton Kannemeyer, Kathryn Smith, Esmerie Meyer, Steven Cohen, William Scarborough, Neil Lightfoot, Jeremy Wafer, Mark Hipper, Mark Haywood, Storm van Rensburg, Tony Scullion, WASH, bittercomix).
A cross-section of newspaper/media articles on the conference, featuring reviews of the 1998 conference exhibition, and the controversies over the works of Scarborough, Orlan and the infamous 1996 penis-piercing event.
A cool Histories of the Present Press plane logo screen-saver + loads of wallpaper clips for your PC.
Hitherto unpublished papers by world renowned Critical Psychology Professors Erica Burman: 'Memory, Madness and the Market' and Ian Parker: 'Psychopathology, Subjectivity and Dialectical Rewriting'. Chapters by US author Daniel Burston: 'Family, Pathology & Schizophrenia in R.D. Laing', US sociologist and critical researcher Kum-Kum Bhavnani: 'If the Glove does not fit', Cambridge Scholar George Ellison (with Thea de Wet): 'Ethnicity as Pathology', Italian academic Anabella Hoffman: 'A Bootstrap Theory of Norm and Deviance', British author and academic Mark Smith's 'Normality and Pathology: from Disciplinarity to Postdisciplinarity' and Paris-VIII researcher Sophie Borreill's 'Territoriality: Dimensions and Implications'. Also included is a transcription of Orlan's QMC lecture delivered on 3 September 1998.
As complete as exists a set of proceedings from all five of the QMCs. In addition to a sampling of the finest published work stemming from the conference, including the South African Journal of Psychology publications: 'This is not a pipe' by Neil Lightfoot, 'Crash', by Martin Terre Blanche, 'Videos and Talk about sexual violence' by Amanda Kottler and Carol Long, 'Objects without origins: Foucualt in SA', by Alex Butchart, 'Sex machines and statistical persons' by James Sey and 'The effects of framing and the sources of violence' by Vasi van Deventer. (For a more exhaustive listing of contributors see below).
Ordering the CD-Rom:
For South Africans: the cost of the CD-Rom is R 60-00 (including postage). To order a copy, deposit this amount into the Standard Bank Account of Histories of the Present Press (Account Number 20 261 597 9, Branch Code 480502, Braamfontein) then fax through to 011-716 2476 a copy of the deposit slip plus the details of your name and postal address. Similarly, you may make out a cheque for that amount to Histories of the Present Press and post it to me at Histories of the Present Press, Department of Psychology, University of the Witwatersrand, Private Bag 3, WITS 2050.
If you are based at Wits University, or in Johannesburg more generally, simply e-mail Derek Hook at [email protected] and arrange a time to pick up a copy of the CD (or call to leave message at 716 2407 (w) or at 646-6738 (h)). I have an office in the Social Sciences building: SS 232, and am there pretty much the whole week.
If you are based outside of South Africa there are two options. Firstly, you may mail me a cheque in your own currency equivalent to the amount of 9 pounds (sterling) or 15 dollars (US) which I will then exchange. This amount is unfortunately unavoidably somewhat higher because of international postage rates and foreign-exchange costs. make out a cheque for that amount to Histories of the Present Press and send it to me at Histories of the Present Press, Department of Psychology, University of the Witwatersrand, Private Bag 3, WITS 2050. Secondly, you may go the route of a telegraphic transfer. Your bank will need the following details: the bank to which the payment need be made is Standard Bank South Africa, Braamfontein Branch, 76 Jorissen Street, Braamfontein (Postal Address PO Box 31248 Braamfontein 2017). The S.W.I.F.T. Address is SBZA ZA JJ. Telefax number is (011) 403-1356. Telephone number is (011) 358-6000. The branch code is 480502 (Braamfontein).
'From Method to Madness: Five Years of Qualitative Enquiry' was edited by Derek Hook, Kathryn Smith, Brett Bowman and Martin Terre Blanche). Its production was only made possible by virtue of a generous grant made by the French Institute of South Africa (IFAS). It includes the contributions of: Moshekwa Langa, Grahame Hayes, Gavin Ivey, John Dixon, Kevin Durrheim, Ulrike Kistner, Mary van der Riet, Johan Kruger, Kevin Kelly, Kenneth Wilson, Charles Potter, Sue van Zyl, Lindy Wilbraham, Iain Low, Jacki Watts, Charity Masimelala, Joanne Stein, Susan Sedumedi, John Webb, Merridy Wilson, Tany Wilson, Wally Willies, Robert van Tine, Anna Strebel, Kopano Ratele, Katrin Seifert, Tamar Shefer, Alexia Montanari, Louis Greenberg, Kerry McLuckie, G Furstenburg, Bronwyn Harris, Susan Ingram, Helenique Argyrou, L Blokland, Anthony Doronville de la Cour, Patrick Hegarty, Anne Swan, Janine Van Blert, P.L. du Toit, Gillian Haiden, Marc Joffe, Kevin Joubert, Teboho Lebakeng, Christine Lochner, Lisa Love, Nate Kohn, S Molepo, Betsi Pendry, Michael Pitman, Michael Quayle, Michelle Sleed, Alastair van Heerden, Clifford van Ommen, Deidree Matthee, Lou-Marie Kruger, Bregham Dalgliesh, Matshediso Rankoe, David Neves, Sharon Fuller, Sarah Britten, Thoko Hlatwayo, Esther Mnisi, Isaac Mathibe, Estelle Zietkiewicz, Leslie-Anne Katz, Neslon Hoedekie, Kathryn Smith, Clint van der Walt, Brett Bowman, Merry Singer, Petrus de Kock, Dagmar Lorenz-Meyer, Regine Heidenreich, Val Woodward, Vasili Kapetanakis, Bronwyn Harris, Claudia Wilson, Simon Stacey, Andrew Favell, Nina Halowell, Gundrun Kober, Gavin Ivey, Mark Levine, Nicole Jaff, Alain Tschudin, Lance Lachenicht, Graham Lindegger, Sebastian Potter, Caitlin Evans, Jo Wainer, Kay Hampton, Felicity Belovich, Anthony Theuninck, Alaistair Mundy-Castle, Zubair Moomal, Pravani Naidoo, Tamara Shefer, Fiona Scorgie, Andrew Thatcher, Andee Deverall, Vaughan Dutton, Stephanie Burrows, Agnes Clarke, Sharonne Isack, Gordon Naidoo, Ruth Dube, Jenny Kenyon, Paul Serebro, Malcom Steinberg, Gill Allwood, Pierre Brouard, Alan Karstaedt and Ineke Leulenberg-Buskens
From the back of the CDROM:
'Qualitative Methodology inhabits a precarious space in the life of the South African academy. The event of the 1999 South African Qualitative Methods Conference 'Normality & Pathology' marked the 5th birthday of what has come to be referred to as the 'loose methods collective'. The collective is an informal grouping of academics from various different disciplines who have jointly tried to facilitate the development of what we believe to be politically progressive research work, academic practice and aesthetic production. The productions of the collective have been gathered into a multimedia miscellany, whose thematics chart a trail of enquiry along both the paths of theory and praxis. The multimedia of enquiry, as diverse as the contents of its engagement, makes 'From Method to Madness: Five Years of Qualitative Enquiry' an unprecedented and invaluable resource for acquiring interactive insight into the last five years of counter-knowledge production and qualitative research in South Africa.
For more information contact Derek Hook at [email protected]
---
Web site designed and maintained by Martin Terre Blanche
[email protected]